An Charraig is one of the interfaces for the ideas of the Aisling project.


First of all the volunteer's home is a house with a big kitchen. There we can sit together, talk and welcome guests.

During worktime the house is usually quite empty as the main tasks are in the organic gardens of which there are four. One of them is set up to sell produces to local restaurants and to the people who come to our garden. The other gardens provide us with food.

The food we can't get from there, we get from an Irish wholesaler. We only buy things in the shop we can't get from those sources or make on our own. For example: milk, cheese and butter. We take terms in cooking and baking bread. This movitates everybody to experiment with food and get to know new materials and skills.

We have the opportunity to learn Irish and Irish musical instruments. Besides that we can learn a lot more here. Most of us don't know how to do many of the things we need to do here. Often another volunteer or a book helps out in such moments. Our creativity gets new challenges with making decorations for days like Christmas or Halloween, finding birthday presents or beeing forced to find an uncommon and self-sustainable solution to the problems we face. And the exchange with the other volunteers about many topics brings new inspiration and motivation for everyone.


In winter there are 4 people here. In summer there can be up to 8. Everyone gets their own room, seperated by curtains from the others. All the rooms have a name. They come from song titles and are either a vegatable, a herb, a flower or a fruit. In summer we also have a lot of guests. Volunteers from other projects, friends of the volunteers or of the family and former volunteers are coming to stay some nights with us and experience the island and our way of living. Showing them around and exploring the island on the weekends on our own is a big part of the stay here as well. Everybody finds their favourite spot where they comes back again and again. Because different volunteers are staying different lenghts of time and arrive in different months there is a steady change of personalities. This makes the stay here interesting but also hard. Often we have to say good bye to a good friend without knowing when we will see each other again.

Not every volunteer who stays here is in the garden. We have three other postitions: Office, building/maintenance and household. But nevertheless there is one volunteer for garden. He or she takes care of it for a longer period which can be up to one year. Those volunteers which stay only for a short time help out or get a little project to fulfill during their stay. But even so we are responsible for one garden, we help out each other when somebody has heavy work to do. Also besides work we have a lot of activities together. In the evenings we often sing, play games or just have conversations. Sometimes we go to Dun Aonghusa and try to see the sunset or we go for a walk or go to the beach. Some evenings we go out to the pub or cinema. There we get to know local comunity members. It's always interesting to speak with them besides the short conversations on the streets or at the market.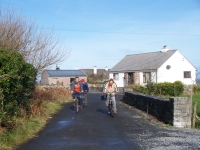 We get to the gardens by bike. Most of the deliveries we do by bike as well. We get to the gardens by bike. Most of the deliveries we do by bike as well. Sometimes some volunteers can come and pick up the vegetables with the rotivator.

As we are trying to be self-sufficient we are building and repairing a lot of things on our own. Shelves, compost bins, shower, sink, chairs or anything else is built and rapair by the maintenance volunteer or anybody who has the time, engery and will to do it. A big part of this is repairing bikes or other important items. The family built the houses and sheds together with the volunteers.
Nearly every sunday there is a ceremony with Dara. This gives us the first impression of the Celtic tradition and religion. On other Celtic festivals Dara gives little ceremonies and explains to us why people are celebrating. So we get a good insight into the Celtic tradition.
All of this happens in the surrounding of "An Charraig" and shows to a lot of people how different life can be.
by Anja Hackius
updated by Hilal Tastan